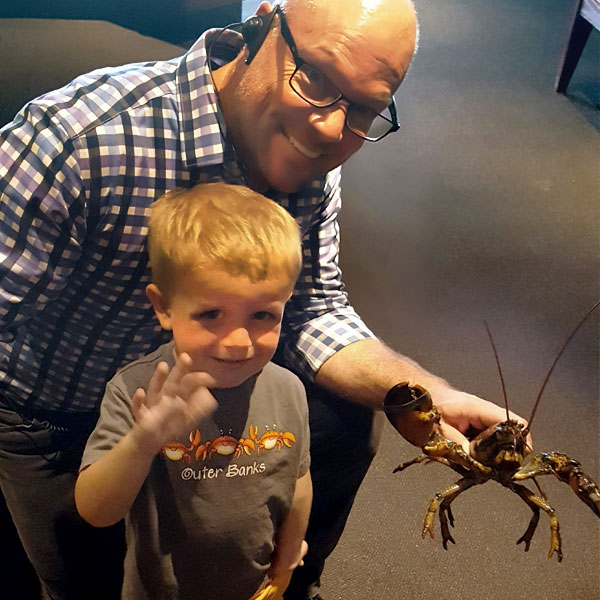 Making a Childs Day
Young guest makes a new lobster friend.
Young guest Ollie turned three years old in September and asked his mom to take him to Red Lobster to celebrate. So Ollie and his mom headed into RL 61 in Bridgeton, MO for a special birthday meal! "His mom said he had been wanting to come to Red Lobster ever since their summer vacation when he got a crab t-shirt," Service and Hospitality Manager Wayne Davis explained.
Ollie showed up in his crab t-shirt and, at first, wanted to order the mac and cheese for his meal. "But he decided to be brave and ordered the kid's lobster tail," Wayne said. "He absolutely loved it!" Wayne took the time to chat with Ollie and his mom to learn more about his guests. "Ollie's mom said that Ollie was trying new things and he wanted to 'talk' to a Lobster."
Wayne couldn't resist the opportunity to treat Ollie with the chance to talk with his very own lobster! "We went up to the lobster tank to have a Lobster Talk," he said. "He got to touch a lobster for the first time. He was fascinated and asked lots of questions!"
Wayne's efforts made a lasting impression on Ollie and his mom. She called the restaurant the next morning to share how much Ollie loved the experience and how he made a new friend with "Larry the Lobster." "She said he wanted to come back soon and he wants his next birthday to be at Red Lobster," Wayne said. "Our time with guests really makes a difference!"
Thanks Wayne for taking the time to make Ollie's birthday a fun one!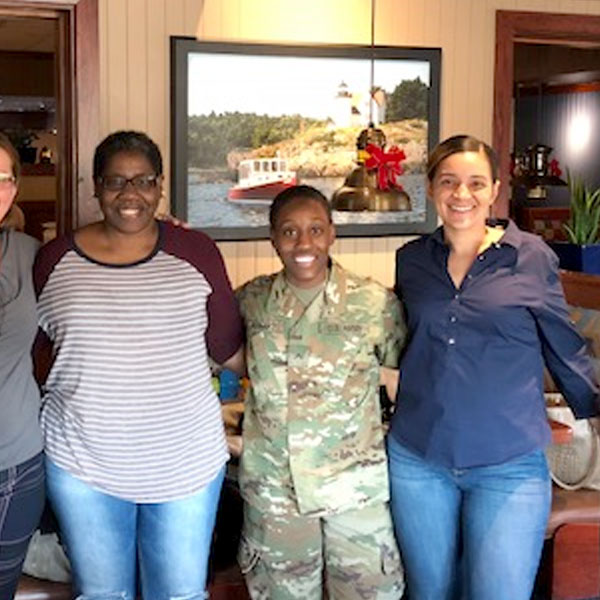 Heartwarming Surprise
We are proud to serve those who serve.
When it comes to providing the ultimate dining experience, our Great People really know how to deliver. RL 353 in Boardman, Ohio received a call from a guest asking to help plan a surprise, and the team was excited to help. The guest, who serves in the military, came home for the holidays and wanted to surprise her mother. Team Boardman worked with the guest to organize every detail.
"The guest came in early to the restaurant and set in the back. When her wife and mother arrived, they requested to sit on the deck. That request was the cue for host, Erica Braxton to notify me. Server Jennifer Carr, greeted, and asked for their drink order. The guest delivered the drinks to her wife and mother's table! The mother was so surprised and very emotional," explained manager Deborah Edwards.
Great job to Team Boardman for pulling off a perfect surprise and putting our core value, Hospitality, in action!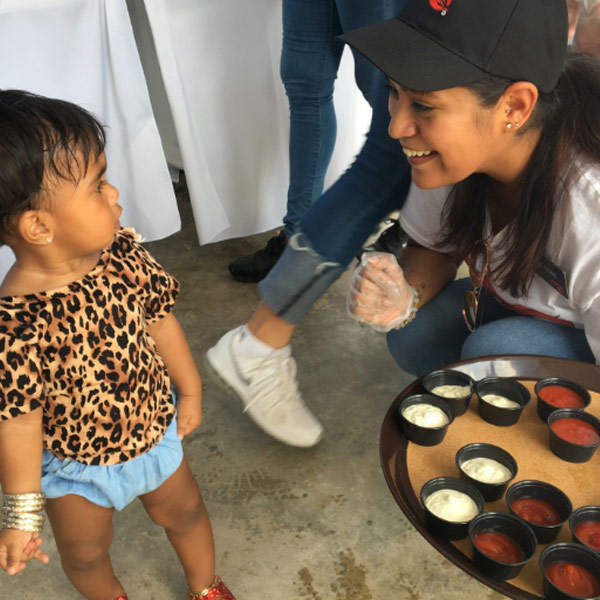 Day of Giving in Puerto Rico
Our team is proud to support the communities we are part of.
Days before the grand opening of Red Lobster in Puerto Rico on January 15th, Jarrett Whitlow, Senior Director of International Operations, and a team of volunteers from Red Lobster headed to Loiza, a small town in Northeastern Puerto Rico. The Red Lobster team distributed food to more than 500 residents, some of whom are still without power. Residents also enjoyed live music, face painting and balloon animals!
Lobstertunities
Describes ultimate career opportunities that are so craveable and fun they can only be found at Red Lobster.